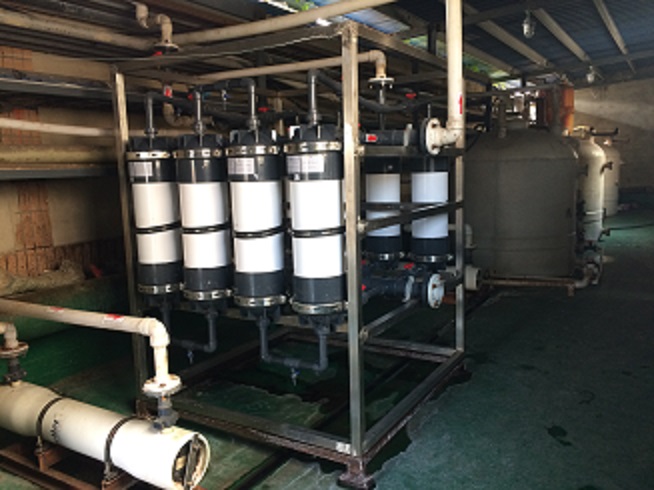 1. User introduction
Jiangsu Pharmaceutical Enterprise is a Sino-foreign joint venture in the production of salicylic acid series of raw drug products based on the fine chemical comprehensive enterprise. The salicylic acid production line will produce an 8 000-9 000 mg/L ammonia-containing evaporative condensate. In order to meet the discharge standard (<45 mg/L) of the wastewater treatment plant in the park, Gaopeng Pharmaceutical Co. has compared and selected various ammonia removal processes.
After a preliminary pilot test, the degassing membrane deamination technology and the scheme provided by Suzhou Ajik Membrane Technology Co., Ltd. have been approved by Gaopeng Pharmaceutical Industry. Later, through the investigation of several major domestic manufacturers of membrane contactors and engineering companies, a comprehensive comparison was made from the aspects of product performance, engineering examples, investment and operation costs. The material company finally adopted the solution of Ejik.
Operation start time: April 2016.
2. Operating parameters
Raw Water Type: Evaporative Condensation Wastewater from Salicylic Acid Production
Water treatment capacity: 30m3/D
PH:8-9
COD:2000
SS:100
Influent ammonia nitrogen content: <10 000 mg/L
Ammonia nitrogen content in effluent: <40mg/L
Brief process flow:
H2SO4
↓
raw water→ Filtration system → Alkali addition →Precision filter→ Deamination membrane → Water production discharge
↓
Multi-effect evaporation of concentrated ammonium salt
Because of the small amount of water and the high content of ammonia nitrogen in the influent, it needs a lot of series connection to meet the discharge standard. In order to avoid too many series membranes, the system adopts four-stage series, two parallel cycles of ammonia removal mode at each stage!